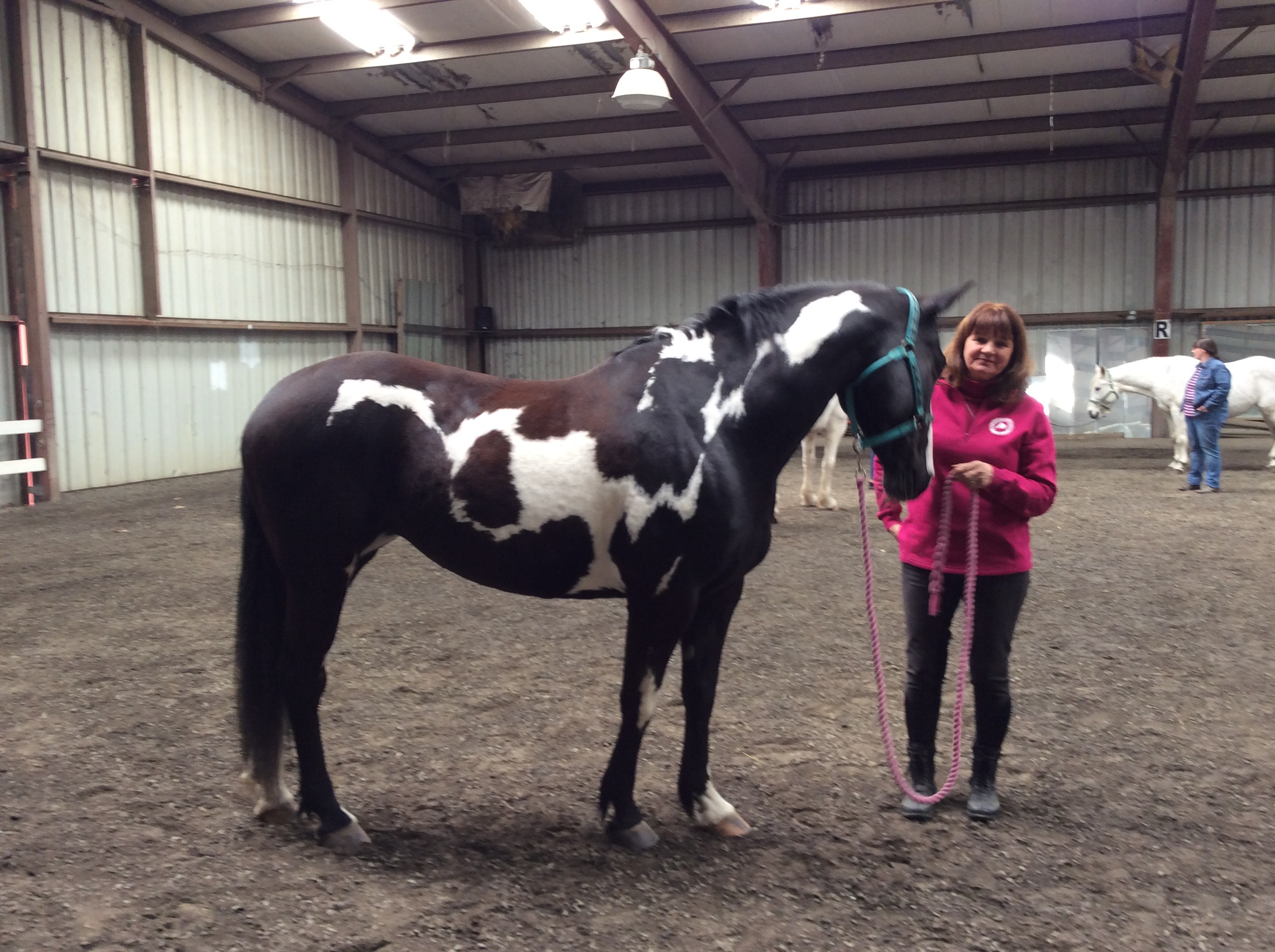 Learn Conformation Balancing:    
Levels 1-3:  Training is 4 days per Level. Work with varied horses and learn to find Fascia limits and resolve them. Horse experience is helpful. Each Level has a completion certificate. Certification requires completion for all 3 Levels, plus an accepted written report. Contact us to apply.  Classes are small & individualized. This work teaches you a new universe of health possibilities.  
$1800 Fee for each Training  Level.  Lodging & meals  not included. 
Levels for certification:    
Level 1: Introduction; Photo use, Stance, Top line, contact methods. Learn to identify fascia limits, horse approval/warnings. Visual patterns for fascia compensations.      
Level 2: Compensations, Fascia patterns, Conformation imbalance progress patterns. Soma-emotional recall for horse trauma/anxiety. Tracking change & results. Variations in horses.     
Level 3: Advanced Conformation Balancing compensations. Advanced Soma-emotional recall for horses. Series work on horses with written report & photo progress on 5 horses.    
Certification: A final report is accepted and certification issued. Certification Fee: $450; this includes marketing package, website listing and newsletter. 
Why learn Conformation Balancing?
The program is based on developing kinesthetic tools for finding imbalanced fascia or connective tissue in horses. Like Ida Rolf's method, we stress learning to feel the horse's body to find the limits, along with photos that visually identify compression and compensations.     
Margret found that owners and riders needed better tools to find  these limits and learn to release them, with the horse's approval. Since horses are master compensators, they often bury the problem so deeply that the compensating area appears to be the problem.     
Conformation Balancing accesses fascia limits to restore lost horse ability and relieve pain and anxiety from these limits. The horse is then free to become himself and bring total competency to all his work and life. This is progressive fitness.   
Conformation Balancing is results driven. Since it resolves many limits that block horse owners and riders from enjoying their horses, a rider who develops understanding of fascia and its compensations will thrive on this path. At this time, Conformation Balancing is not affiliated with or accredited by other bodywork organizations. That may develop in the future.     
The Levels and Certification prepare for using the book information in a daily practice. We show you how to apply the releases, contact and patterns to work consistently and successfully with many varied horses and their situations. We encourage Certification for those who plan to work on many horses so that they don't get "lost" in the trees without seeing the forest. Fascia is a universe of uniqueness and it's easy to lose focus in the miracles. The Levels are essential for serious fascia practitioners.    
Since the state laws for animal care vary widely, each student must research available programs, regional and state limits and plan their goals carefully. It's always recommended to discuss your possibilities with other professionals in your area.    
Conformation Balancing is not a replacement for veterinary care.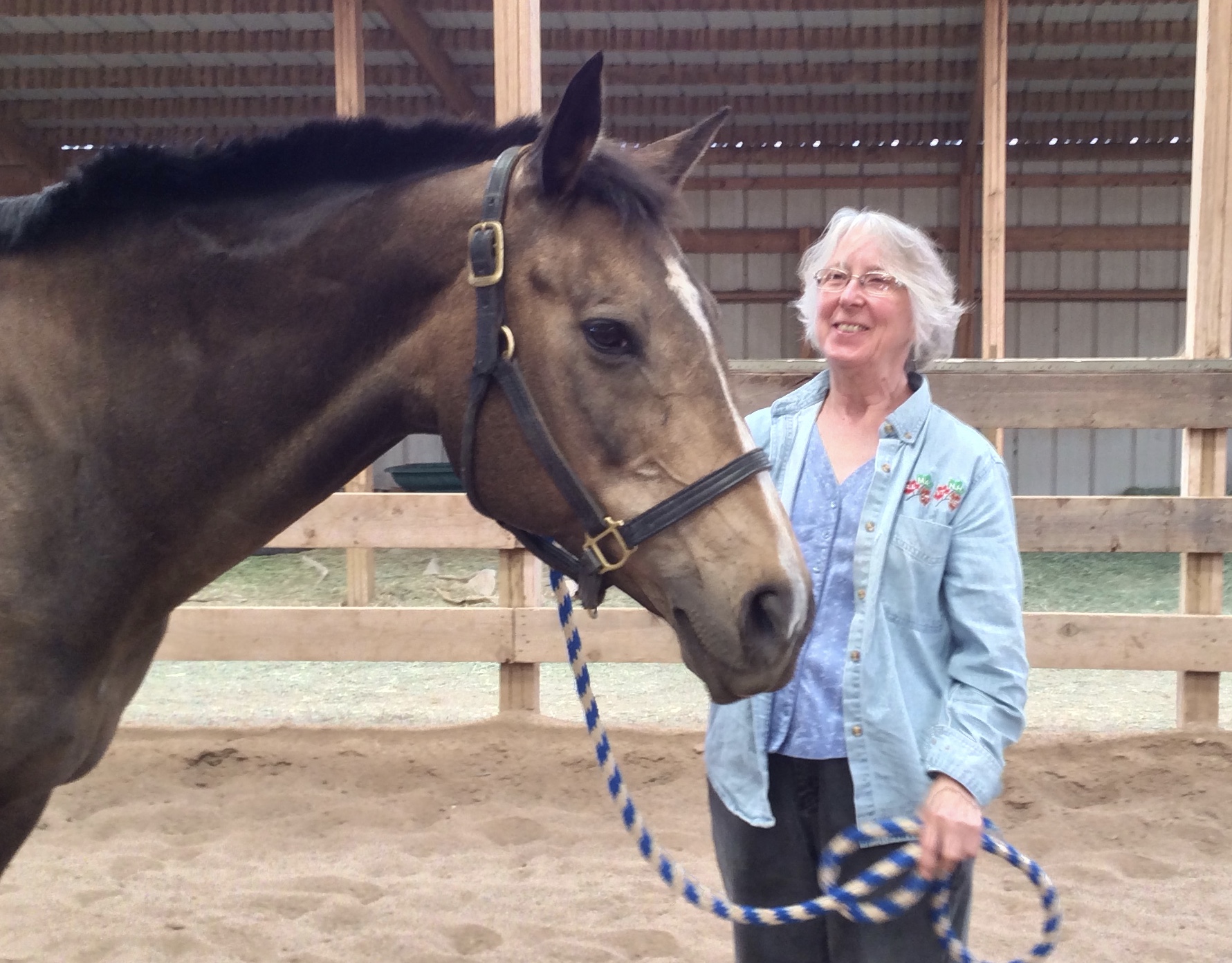 "In May, I attended a workshop presented by Margret Henkels on Conformation Balancing for horses. I read her book, "Is Your Horse 100%?" and watched her video. I knew I had to learn more. I flew to NM to study with her for a week. The course was amazing. Margret arranged for me to experience a wide variety of horses with a wide variety of conformation issues; the whole time I was working with her one on one. She was right there with answers to my questions and suggestions about staying safe. It was like a mini-apprenticeship; there is no better way to learn. 
I started working with my horses using the methods I learned to promote fascia change and bring about Conformation Balancing. My horses are loving the time I spend with them and I am already seeing changes for the better. I will complete the levels for certification in the near future. To me it seems the perfect way to promote well being in our horse partners!" Bette, NH
From Head to Tail: Balanced or "Stuck"?
While attending an instructor clinic several years ago, a spontaneous educational event occurred and fascia was first explained to me in a barn. I was fortunate to observe cranio-sacral work on a horse "stuck" in its movement who had some tight spots, especially in his TMJ, which affected his stride. Sure, all the parts are connected; we know that the origin of physiological problems may be somewhere else on the horse's body. But I was fascinated to see how this "melting" of the problem area changed the movement of the horse in a completely different place.
Fast forward a bit, to a nurse practitioner suggesting I try cranio-sacral therapy for myself. And then came good fortune: to have the previously mentioned equine practitioner work on my horses. To see – and feel – the changes that took place amazed me. Even better, he taught me to utilize a specific technique; this was the first recognition that a new adventure, already begun, had been jump started into something way larger than I had anticipated
Fascia, or myofascia, is the elastic, connective tissue in our bodies that surrounds every organ and cell. It holds us together, stabilizing the organs and muscles, and determines our flexibility. Considered "self-directing" and "self-intelligent", fascia determines the extent and ease of our movement, ensuring our vital parts communicate with each other. Fascia has recall memory; a holding pot for emotional trauma and tension, any fascia release can produce both physical and psychological healing for human or equine (or dog, cat or other living creature!).
One practitioner described fascia as a "big sheet of plastic wrap that surrounds everything; when it gets crinkled, it needs to be 'melted' so it can straighten out", which it does from the heat of our hands. An equine chiropractor, also a vet, explained that in vet school they learned about fascia: it was "the stuff you had to cut through to get to everything else!" Now our knowledge about what it actually does is great; surely the rising interest in fascia release work comes partly from the results of experiencing it! Ever see the white stretchy film on a chicken breast? There it is; that's fascia in the flesh
Last fall, when presenting at Equine Affaire, I became fixated on attending a workshop by Margret Henkels, who had studied extensively the role of fascia, with significant experience working on horses. Margret had a book signing (Is Your Horse 100%?) and I went to meet her. A fascinating conversation ensued; she had desired a Centered Riding Instructor to connect with, and I hoped fascia release work could address an equine body issue.
Margret had developed Conformation Balancing, a program integrating the many facets of equine bodywork she had invested years in studying. We eventually created and presented a workshop entitled "Soft Riders, Soft Horses", our coordinated effort to facilitate softening the multiple areas of tightness affecting both horses and their riders; we have presented this twice so far. I have completed her course, becoming certified to work on equine bodies. And what a fantastic journey…
In some circles, fascia is considered to play an important role in just about everything. If it gets "stuck" we may have issues somewhere within the body: movement, pain, anxiety, tension, tightness, and flexibility, to name a few. Because it surrounds and connects all organs and systems, each part is affected by the whole; an entire network (Margret Henkels calls it internet-like) impacts each minute and large piece in our structure by directing, recognizing, reacting, compressing, releasing, remembering, and feeling. That's quite a system, and no doubt works better than my computer!
Articles are available on the effects of tack on a horse's nervous system and fascia. We need not avoid using tack; perhaps our practices will change somewhat as we consider fit and purpose in a new light. Personal observations from horses I've worked on have implicated pressure points from horse clothing, tack, equipment, injury, trauma, riding, or inactivity. Certainly, this list is not exhaustive; many physical and environmental factors can impact fascia.
The good news: our horses can be helped and they do tell us where the issues are. This is non-invasive work; strategic placement of our hands, on specific points of the horse, changes the temperature of both our hands and the horse's body, ultimately changing the fascia. Horses do the work themselves, going deep inside and allowing the changes and releases. Any areas they don't need, or aren't ready for, are places they resist, directing us to those spots most productive and helpful to them at that time.
Of course, none of this precludes the need to consult your vet for health issues of any kind. But it is nice to know there many ways to assist our horses to optimal health and functioning!
Dorothy Crosby is certified both as a Level III Centered Riding® Instructor/Clinician and CHA Instructor for both English and Western riders. Dorothy manages a small farm in Stoddard, NH, where Equi-librium is based.  Most recently, she has added fascia release work on horses through Conformation Balancing. Her joy is in teaching humans and equines of all ages and levels of experience. http://www.crosbyequi-librium.com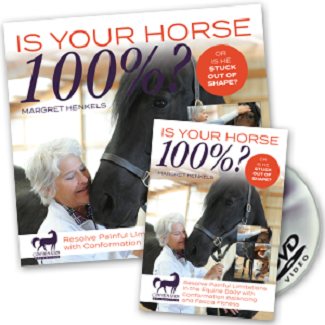 Consulting: Contact Margret for phone/email/ zoom consults on your horse. $200/session includes Body Map report and follow-up call. Margret identifies multiple limits & injuries in horses for lasting results. Exercise menu provided.