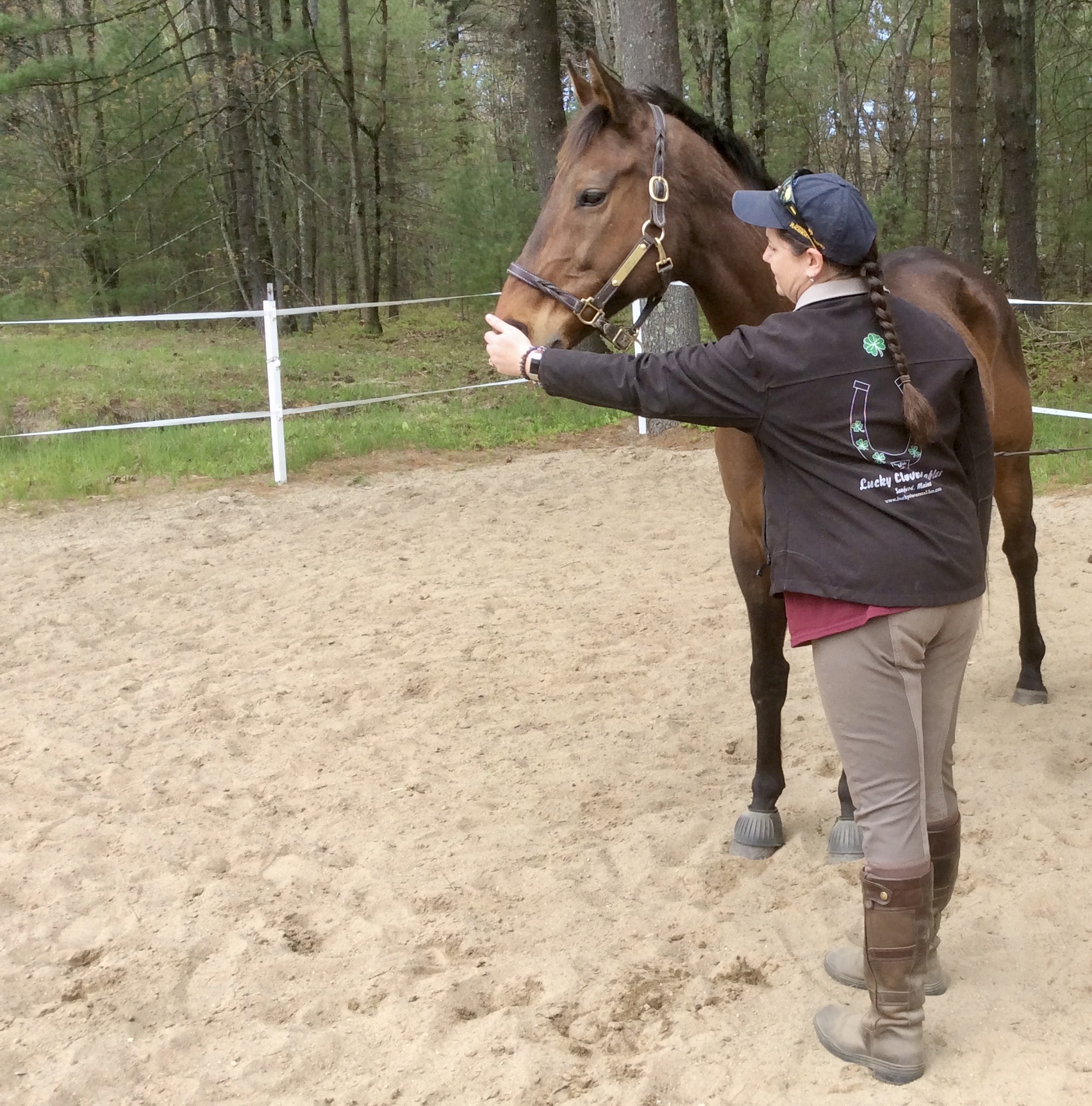 Help horses with Fascia Tech. 
Choose your path to learn Fascia for horses.
– Weekend Workshops:  Get Started, any experience level.
– Tutorials:  For experienced horse people who want to learn more intensively.
– Levels 1-4:  The path for certification.
– Certify: A completion of the 4 Level  program, with certificate.
– Practice Days  for riders who have taken the Weekend Workshop.
– Online Courses: Starting in June 2019. For anyone, living anywhere.
Workshops
1 day Introduction.  No experience needed. Book required for attendance. Groups of 6 or more. 9-4 PM, with discussion.  
2 Day workshops. Book required for attendance. Weekends. 
Seminars for auditors offered the evening before the weekend workshop (usually from 6-8 PM) with a live horse demonstration. Question period. Saturday & Sunday workshops are not open to auditors since this is "hands on" learning. 
Training Levels:
Level 1: Basics, scan,  fascia structure, horse responses
Level 2: Fascia limits, movement & stance dynamics 
Level 3: Advanced Limit Patterns
Level 4: Advanced  series work solving lameness, anxiety, head imbalance
Is Your Horse 100%? – required   text. 
Certification with  marketing platform after Level 4 completion & certificate.. 
Mentor Tutorials:
Study for 4 days.  Diverse horses. Counts for Levels 1, 2, 3 or 4;  $1250/level. Combo packages for 1 & 2, or 2 & 3. 
2019 SPECIAL: 3 DAY Tutorial,  LEVEL 1, 2 or 3, $1250; 2 Level Combo Package: $1950.  Contact us for details, on availability. 
Soft Riders, Soft Horses: This Combo Workshop with Dorothy Crosby, Sally Swift certified helps riders learn to ride better and also learn fascia bodywork for basic stiffness issues in riding horses. Perfect for a pleasure rider!
"I attended Margret Henkel's SOFT RIDERS/SOFT HORSES clinic near Brattleboro VT. I had already read her book, 

"

Is Your Horse 100%?

"

 and watched her companion DVD. But there is nothing like in-person, hands-on experience.  Margret demonstrated a technique – we then performed it on 

our horse.  We were able to practice all the basics on multiple horses thus having a range of experiences.

Centered Riding with instructor Dorothy Crosby demonstrated how to be "Soft Riders". The instruction was very good with exercises and images given to help us all find our centers. I know my riding improved as a 

result. A good time for all."  Elizabeth V.
PROGRAM Schedule
Weekend Workshops-  Contact us for info. Always new ones added. 
Rancho Mariposa, Lamy, NM, Sat, March 23, 9-4 PM.
Rancho Mariposa, Lamy, NM, Sat, April 27, 9-4 PM. 
Rancho Mariposa, Lamy, NM, Sat May 25 & 26, 9-4 PM. 
Southern CO locations, inquire if you're in this area. 
VT, MA, CT locations, inquire in your'e in this area.
Learn Centered Riding Basics (renowned Sally Swift program) and Conformation Balancing for your horse in one weekend. Dorothy Crosby (pictured in photo to right with Margret)

.  Dorothy Crosby, Centered Riding Level III Instructor/Clinician at Southmowing Farms, Vermont, for Soft Riders, Soft Horses Workshops. Dorothy Crosby, 603-446-3685, 

crosbyequi-librium.com

Master Tutorials:

Certified practitioners only. Tutorials for increasing suppleness, poll flexion, sacral freedom, collection maintenance releases and head/jaw freedom. A  "must" for dressage, jumping and other high requirement riding.  Master Tutorials resolve elusive probllems from repetitious  riding and early life accidents. 

Coming:
Online Courses
Newsletter,
Memberships for Continuing Education
Contact us  to host or  book Workshops, Levels, Classes.  505-501-2290