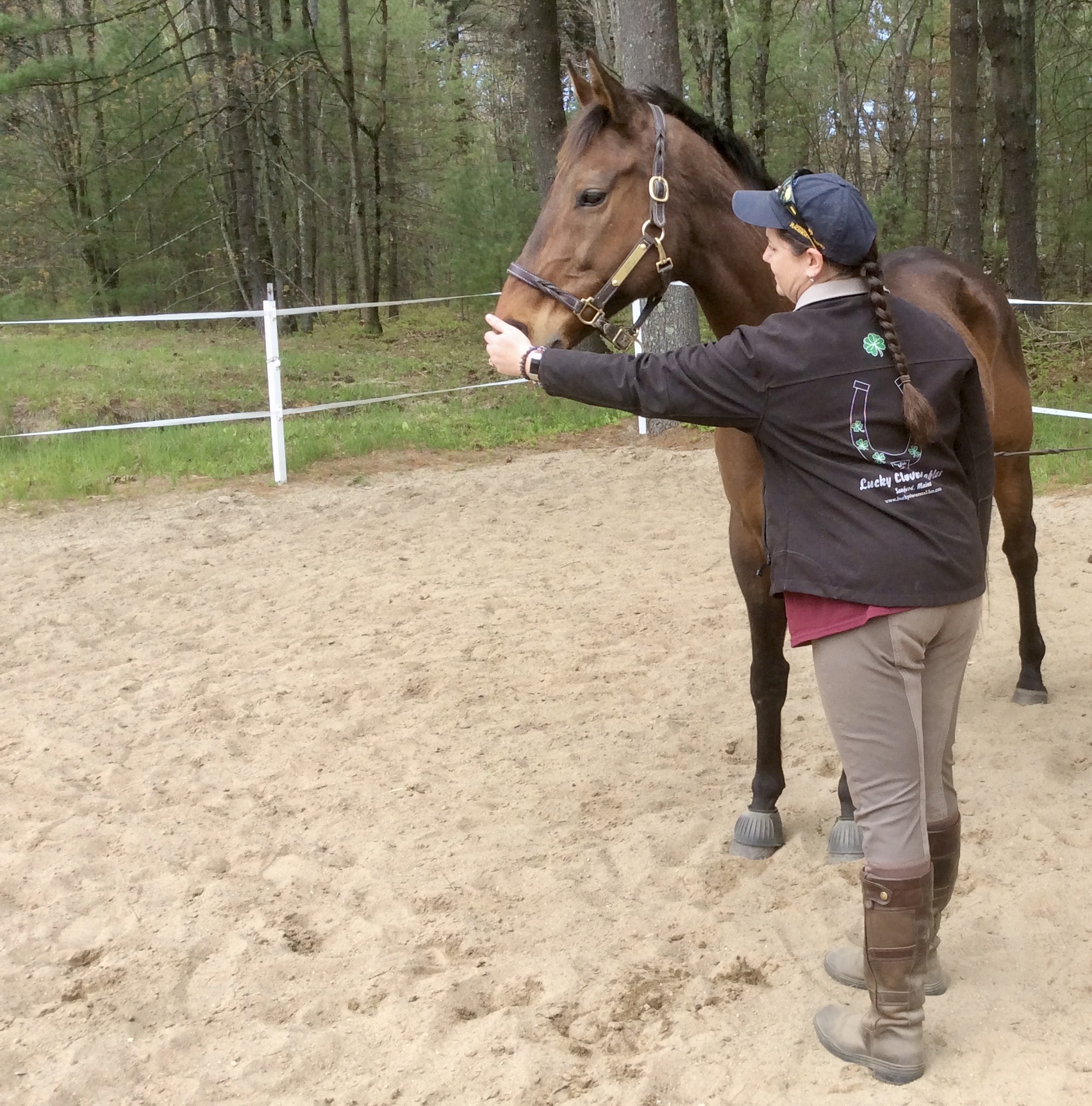 Help horses with Fascia tech: 
Choose your path to learn Fascia for horses.
– Weekend Clinics:  Get Started, any experience level.
– Tutorials:  For experienced horse people who want to learn more intensively.
– Levels 1-4:  The path for certification.
– Certify: A completion of the 4 Level  program, with certificate.
– Online Courses: Starting in 2019. For anyone, living anywhere. 
Clinics
1 day Intro Clinic.  No experience needed. Book required for attendance. 9 AM -4 PM.  
2 Day Clinics. Book required for attendance. Weekends. 
Seminars for auditors offered the evening before the weekend workshop (usually from 6-8 PM) with a live horse demonstration. Question period. Saturday & Sunday workshops are not open to auditors since this is "hands on" learning. 
Training Levels:
Level 1: Basics, scan,  fascia structure, horse responses
Level 2: Fascia limits, movement & stance dynamics 
Level 3: Advanced Limit Patterns
Level 4: Series work on horses with written session reports & photos
Certification: A final report is accepted and certification issued. 
Is Your Horse 100%? – required   text  to attend all Levels. Bring book for reference.
 Level 4 requires a report; a Certificate of Completion issued. Marketing platform included.
2019  Mentor Tutorial Intensives: 
LEVEL 1, 2, 3, 4. $1250/Level; 2 Level Combo packages. Contact us for open dates.
Soft Riders, Soft Horses:
This Combo Workshop with Dorothy Crosby, Sally Swift certified, helps riders learn to ride better and also learn fascia bodywork for basic stiffness issues in riding horses. Saturday focuses on Centered Riding, with private rides & Conformation Balancing sessions available. Sunday offers a half day of  Fascia Basics and practice time. Perfect for a rider wanting to improve both their riding and their horse.  
"I attended Margret Henkel's SOFT RIDERS/SOFT HORSES clinic near Brattleboro VT. I had already read her book, 

"

Is Your Horse 100%?

"

 and watched her companion DVD. But there is nothing like in-person, hands-on experience.  Margret demonstrated a technique – we then performed it on 

our horse.  We were able to practice all the basics on multiple horses thus having a range of experiences.

Centered Riding with instructor Dorothy Crosby demonstrated how to be "Soft Riders". The instruction was very good with exercises and images given to help us all find our centers. 

A good time for all."  Elizabeth V, NY
"It was a wonderful workshop, I learned so much." Carole S, VT
"This is a whole new world for me…I had no idea fascia controlled so much of the body. Now all those stiffnesses he has make sense and I know I can help him out. This is such a relief. We've been missing the whole point of how to be healthy. What a gift to have, thank you." Mary K, TX
"Willow got a entire make-over in one hour. I want that for myself!" Stephanie F, NM
"Regis is a calm horse now. He  changed so fast.  I'm excited about using these methods at the barn & changing my riding." Nick J, TX
"This workshop was a game changer." Jenn D, ME
PROGRAM Schedule
Weekend Workshops:  Contact us for info. Always new ones added. 
Rancho Mariposa, Lamy, NM, Sat, March 23, 9-4 PM.
Rancho Mariposa, Lamy, NM, Sat, April 27, 9-4 PM. 
Rancho Mariposa, Lamy, NM, Sat May 25 & 26, 9-4 PM. 
Rancho Mariposa, Lamy, NM: ongoing through summer and fall.
Southern CO locations, inquire if you're in this area. 
VT, MA, CT locations, inquire in your'e in this area.
Ongoing Level Training: Rancho Mariposa, Lamy NM, last weekend of each month. Reserve space in advance. Small classes, individual attention. You work with many kinds of horses. 9 AM- 5 PM Sat & Sun. $950.
Learn Centered Riding Basics (renowned Sally Swift program) and Conformation Balancing for your horse in one weekend. Dorothy Crosby (pictured in photo to right with Margret)

.  Dorothy Crosby, Centered Riding Level III Instructor/Clinician at Southmowing Farms, Vermont, for Soft Riders, Soft Horses Workshops. Dorothy Crosby, 603-446-3685, 

crosbyequi-librium.com. Pre-registration required. 

Master Tutorials:

Certified practitioners only. Tutorials for increasing suppleness, poll flexion, sacral freedom, collection maintenance releases and head/jaw freedom. A  "must" for dressage, jumping and other high requirement riding.  Master Tutorials resolve elusive probllems from repetitious  riding and early life accidents. 

Coming:
Online Courses
Newsletter; subscribe & learn more about fascia & cases. Contact us for newsletter. $20/year/quarterly. 
Memberships for Continuing Education: Ongoing information about resolving specific limits in horses. Real stories about horse recovery of all kinds, including toxins and other issues. $50/year. Use the contract us form to order your newsletter and membership,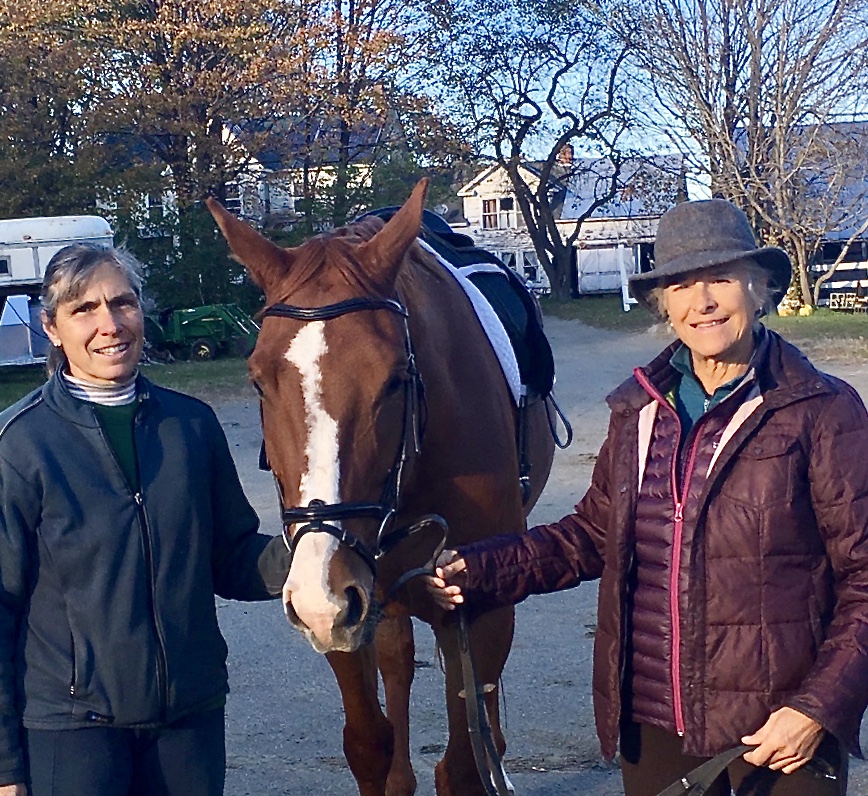 Contact us  to host or  book Workshops, Levels, Classes.  505-501-2290
NOTE: We are not able to use Facebook due to access blocks.
We regret any inconvenience and want you to know it is not our fault.