Conformation Balancing solves athletic limits, mental anxiety & imbalance in horses. 
The results are immediate & progressive. Fascia is the key for best movement, athletic fitness and poise in horses of all types & disciplines. It's not a won't for most horses, it's a "can't do it." Help your horse by finding his stiff spots.
You do it yourself, with your own 2 hands!
This is a book that goes beyond the anatomical importance of the connective tissue system in horses…it addresses the holistic need of the horse to be understood and respected. It gives insight into the way fascial tension affects the behavior and performance of horses and how relief for the fascial system provides horses with much more than alleviation of pain. This book should be in the library of all horse owners.
Madalyn Ward, DVM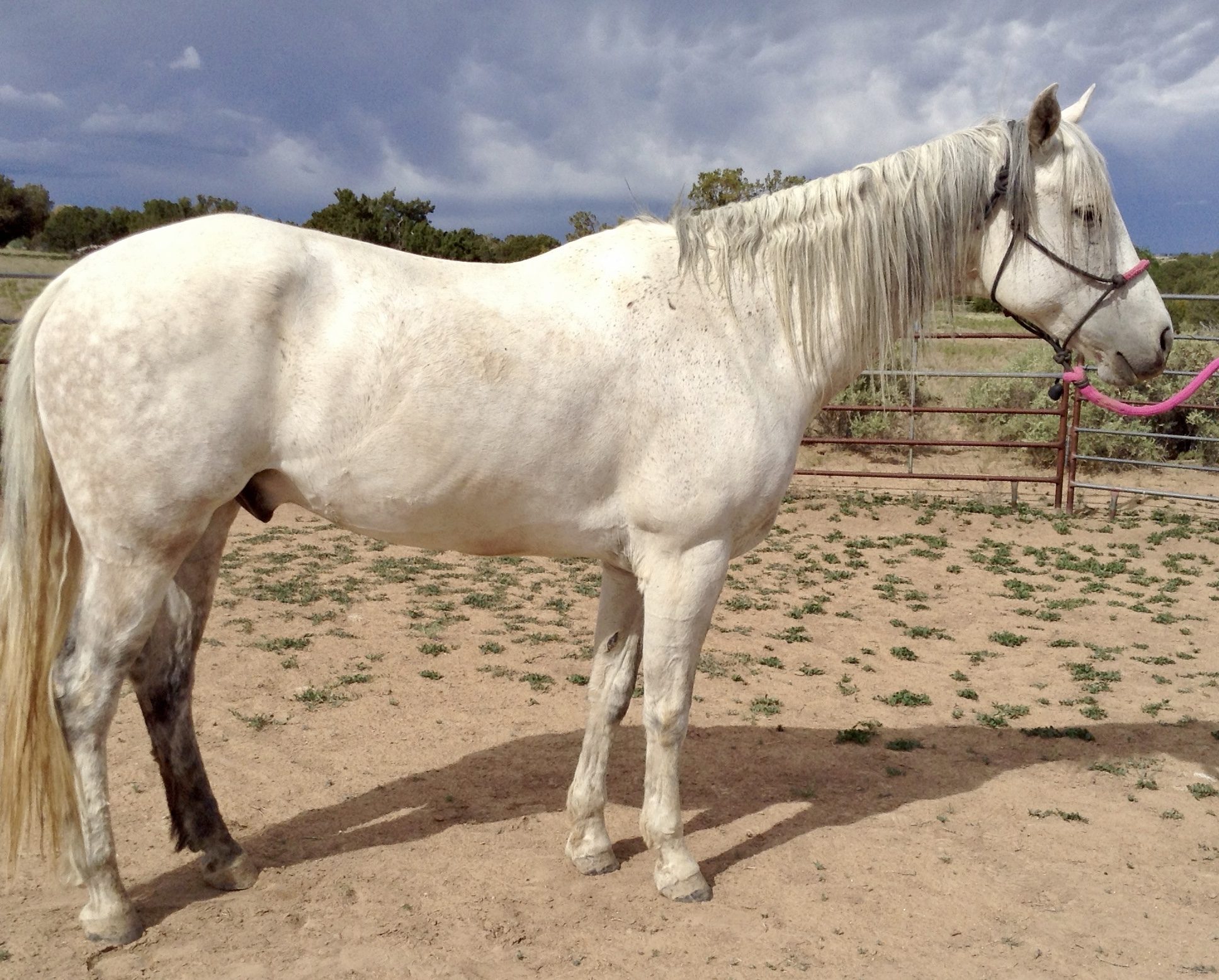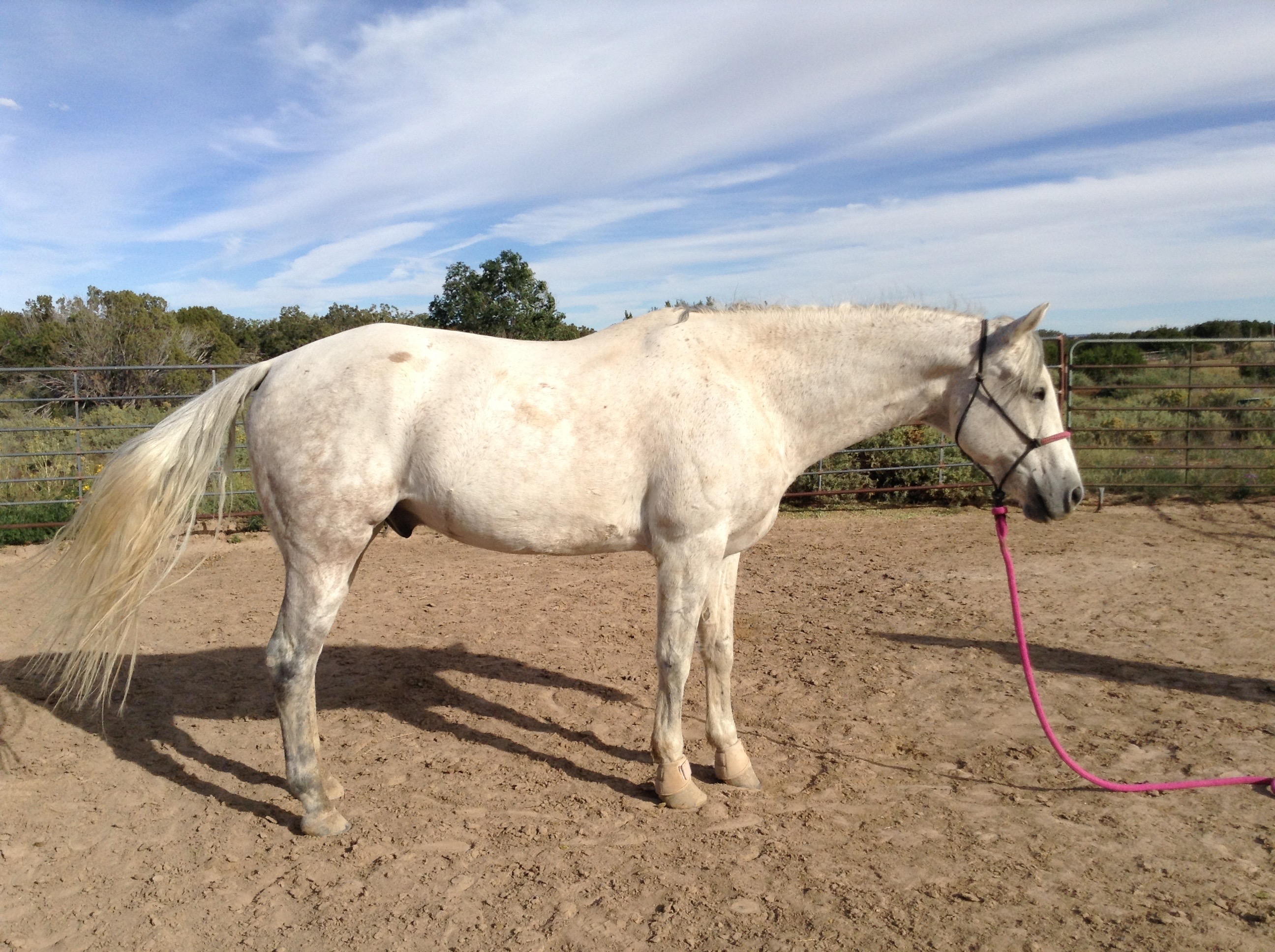 This off-track Thoroughbred gelding had 5 sessions in 6 months. Photo at right shows change in stance, topline, head & tail. "He changed all-over. It would seem like magic if I hadn't watched it happen." Trish
Mentor/Tutorials: " There's no better way to learn"
In May, I attended a workshop presented by Margret Henkels on Conformation Balancing for horses. …. I read her book, "Is Your Horse 100%?" and watched the video. I knew I had to learn more.  I flew to NM to study with her for a week. The course was amazing. Margret arranged for me to experience a wide variety of horses with a wide variety of conformation issues; the whole time I was working with her one on one. She was right there with answers to my questions and suggestions about staying safe. It was like a mini apprenticeship; there is no better way to learn
I started working with my horses using the methods I learned to promote fascia change and bring about Conformation Balancing. My horses are loving the time I spend with them and I am already seeing changes for the better. I will complete the levels for certification in the near future. To me it seems the perfect way to promote well being in our horse partners!! 
Bette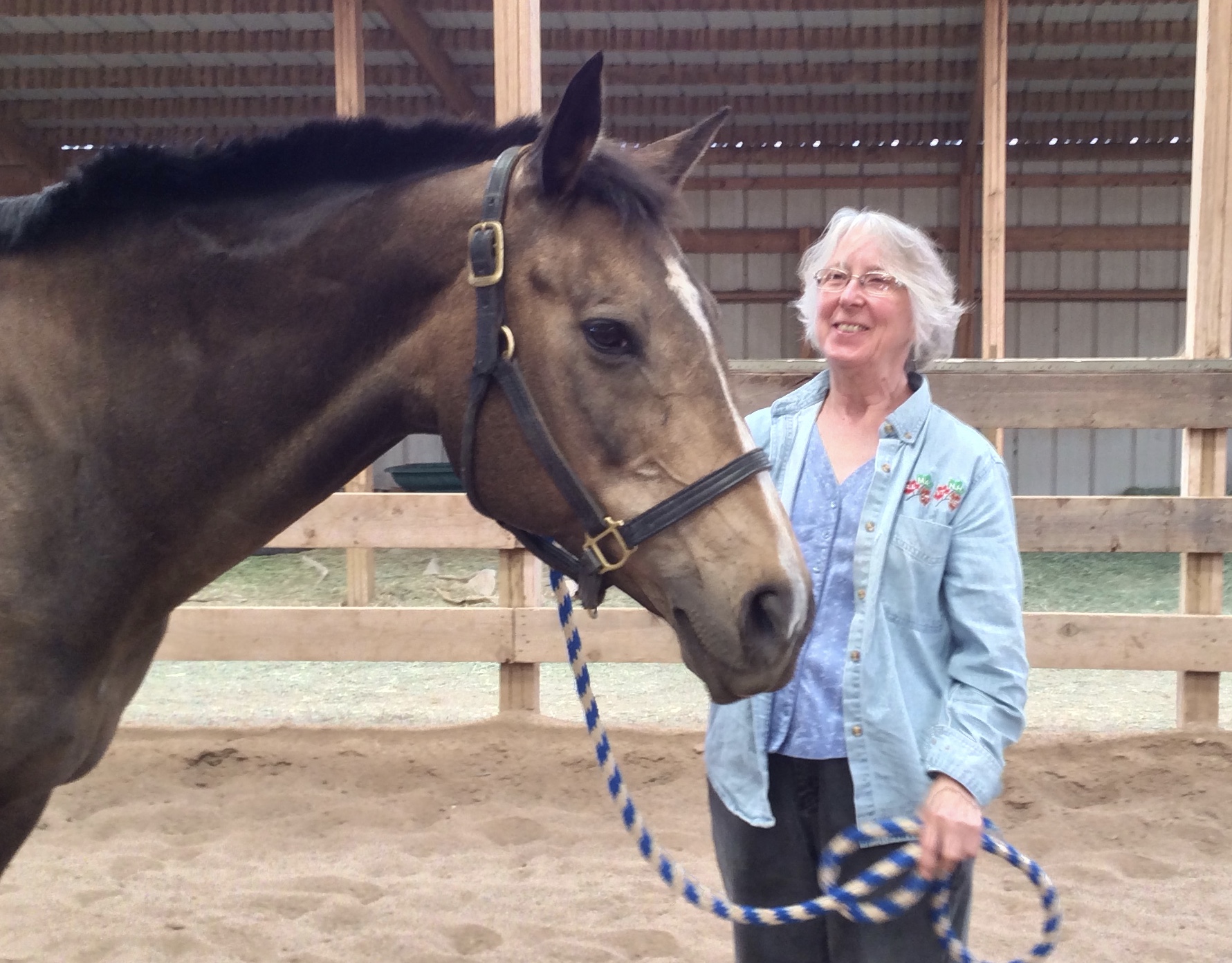 I FELT THE TISSUE MOVE LIKE A WAVE....
After the workshop, I came home and spent time with Aspen refreshing our communication. She never left me. Aspen always has tissue issues on the left side of her neck. I laid hands on her and I felt the tissue move (like a wave under my hand) and then I felt a lot of movement by my little finger. It felt like a creek. I am so excited to finally have a chance to get reconnected with my horse. And she clearly loved the attention. Nancy F.
THE CHANGES IN BOTH MY HORSES ARE SIGNIFICANT.
My 12-year-old Hanoverian is moving with the freedom and flexibility she had as a 5-year-old. Canter, to my Quarter horse, meant totally resist, or canter a few strides then break or try to get out of it by any means possible. Now, his canter is nice, soft and relaxed; he'll canter wonderfully until asked to stop. Rickie S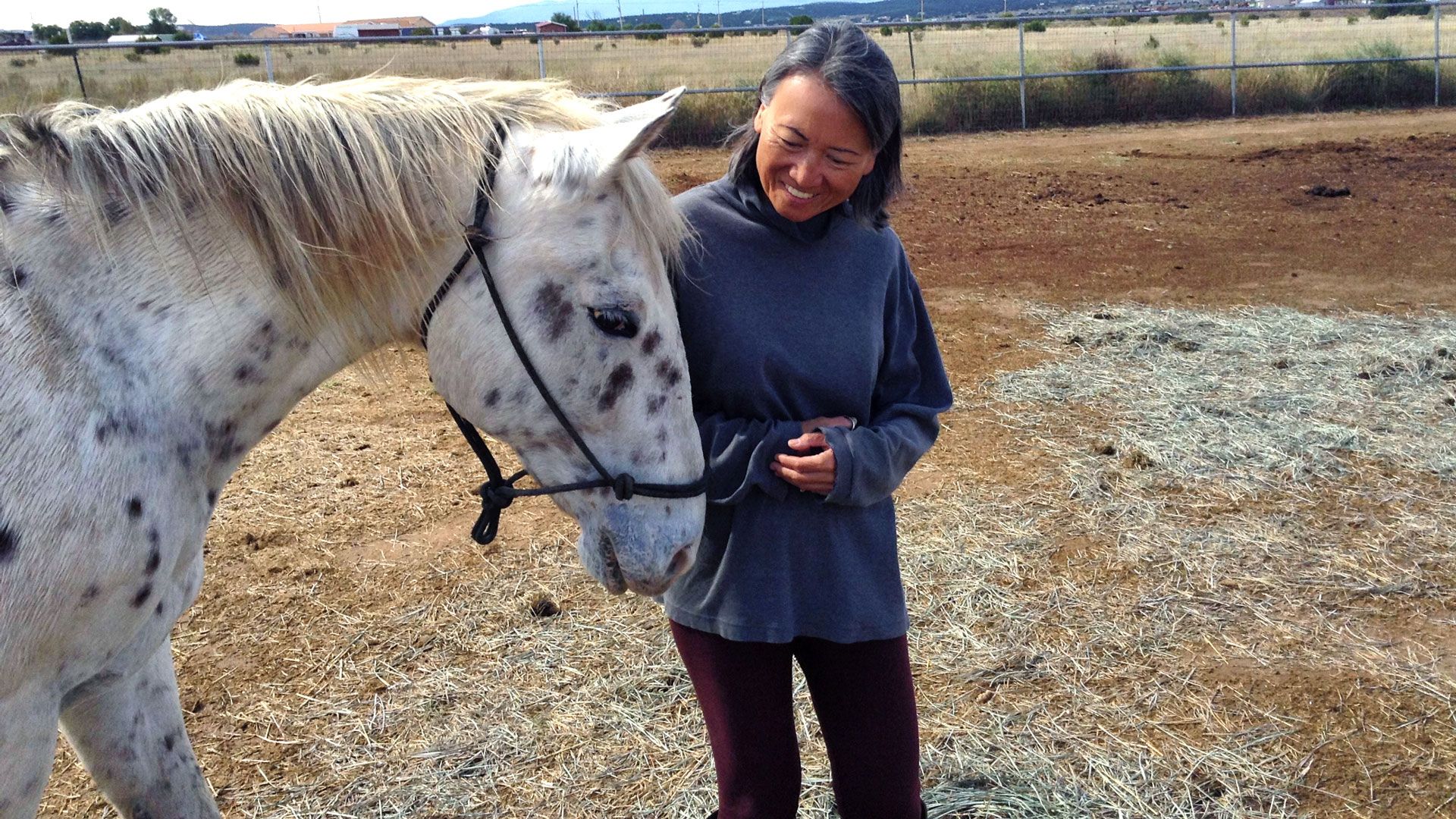 DRESSAGE BENEFITS:  OUR HORSES DESERVE TO FEEL THEIR BEST BECAUSE THEY GIVE US THEIR BEST:
After her first session, she had more energy and was eager to canter for a long time. After the second session,  she was much more balanced and willing to shift her weight to her hind end. This resulted in  smoother and cleaner canter departs and our lateral work was much easier. After her third session, she has more energy, like the horse I never knew I had. Thank you for unlocking her potential for a bright future. Your bodywork is money well spent.  Marcia S.
Using Henkels's tried and tested technique to resolve painful limitations in the equine body with conformation balancing and fascia fitness, your horse will be happier and more relaxed.
Is Your Horse 100%
is a fascinating, educational read and the design of the book makes it easy for horse lovers to follow along with Henkels's instruction for working with your animal. Complete with color photos and detailed drawings,
Is Your Horse 100%
is a necessity for horse owners and trainers alike.
Cowgirl Magazine
"THE BOOK IS SO WONDERFUL…"
"Hi. I just purchased your book and am starting to use it on my gelding……. This work is fascinating. I tried it on myself and felt the power which also gave me the confidence to try it on my horse. Thanks for the great book and fir sharing your knowledge.…..My gelding gave me such a look of amazement yesterday after I did some head releases on him. The book is so wonderful." 
Elizabeth
Make your horse the champion he was born to be. The power to help your horses into your own hands with Fascia Tech. Conformation Balancing shows you which areas have the most strain and stress…get the book & DVD. Workshops, Classes, Tutorials. Coming: Online Courses. Make your horse the champion he was born to be.