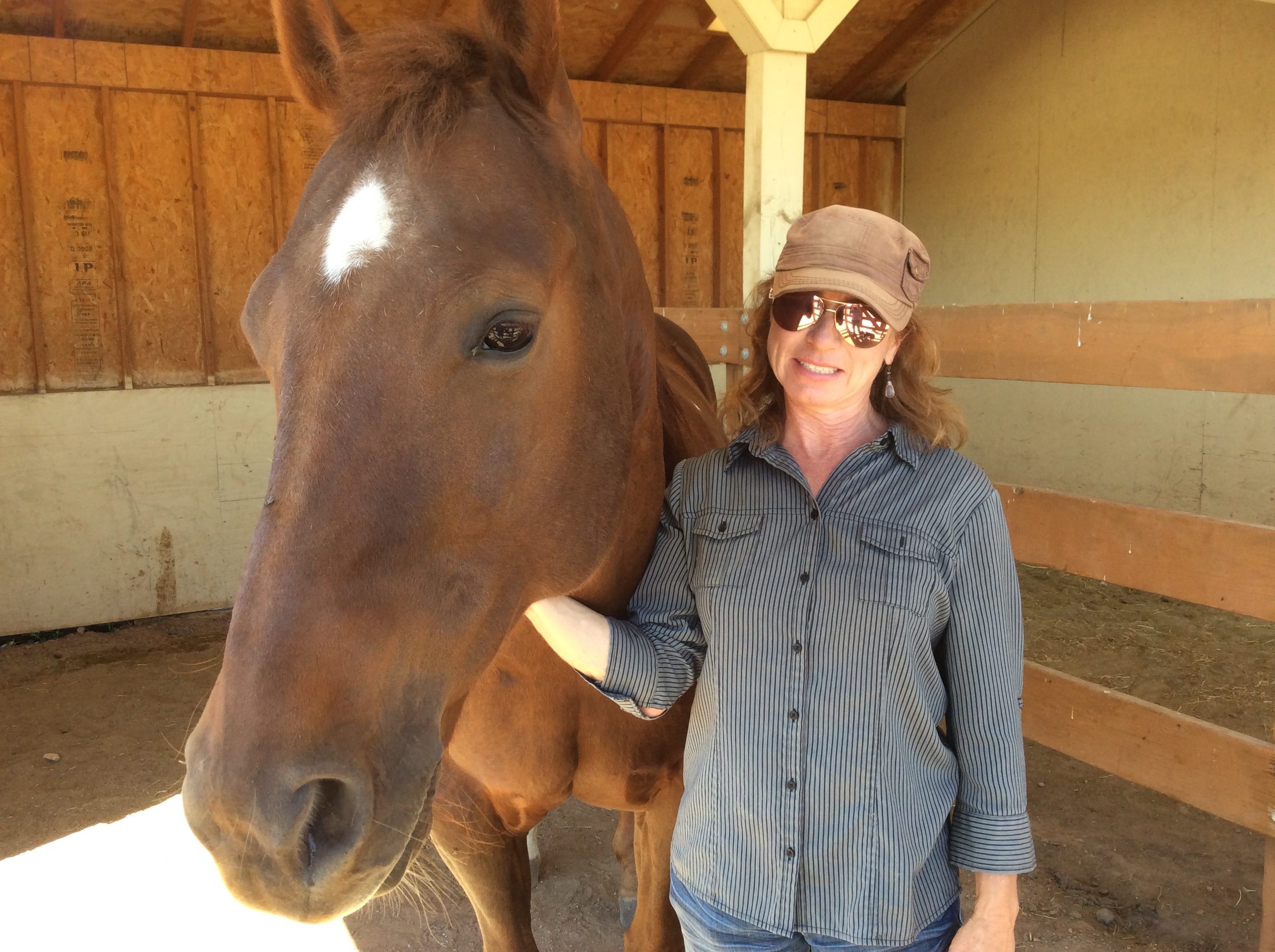 Horses heal in each session
Conformation Balancing  melts stuck fascia (connective tissue) in  self-intelligent progress.  Wild horses move about 50 miles a day; repetitive work in small areas on flat ground  does not bring all-around fitness. Domestic riding horses need our help to make up for the loss of free movement that keeps them fit. Desk work hurts us the same way!
Below, the horse's head shows uneven nostrils. The second photo shows the change in one hour.
Contact us for Phone, email or Zoom call consults for horses. Conformation Balancing resolves unbalanced heads, tight shoulders, hollow haunches, stiff tails, offset stance, ewe necks, backs without muscle, stifle issues, tight hips, rigid abdominals and strained pectorals. These are all common issues in horses. Most are easily repaired.
THE BACK STORY: Conformation Balancing 
An avid rider with a BA in Journalism, my visual skills were honed as an artist while I worked in newspapers and magazines for decades. A riding injury in my 20's created a keen interest in  solutions for my chronic stuckness and pain. I knew nothing about fascia or connective tissue. I tried many therapies searching for health. I certified in Matrix Energetics, a Quantum Energy work  by Dr. Richard Bartlett and  embraced the "100%" concept. I knew there had to be a way to heal.
Through a horse show, I met Heller worker Steve Johnson. His fascia sessions with me so profoundly restored my lost fitness that I certified in Equine Natural Movement with Joseph Freeman. Doris Kay Halstead's Release the  Potential book was another step. Kleka, my 34 year old Barb mare let me practice each contact many times over; she lived to 43 years, a testament to the value of Fascia balancing. This "hobby" turned into a vocation although I was over 50. 
My injuries were valuable–I understood the horses.  Since most horses had real problems, I developed a visual method to quickly find the core imbalance or injury. Often, no one knew what it was. This visual approach brought effective results promptly, since we didn't think but FELT (caps for emphasis)  and saw the horse change and followed the horse's body. 
Is Your Horse 100%? was published in April, 2017 by Trafalgar Square Books and its talented  editors Caroline Robbins, Martha Cook and designer Rebecca Didier. The book is written and designed for easy use and to encourage horse people to put their hands on the horse and enjoy the process. 
An amazing example of fscia: my feet were often cold. When I worked on my right elbow, highly compressed from use, the release allowed my feet to become naturally warm. I also felt my jaws and bite align better. Fascia is self intelligent. It automatically adjusts our bodies as needed if we keep progressing ourselves and horses. 
Below, Margret, 25, with early mentor Jeff Edwards of the Wild Horse Research Farm in Porterville, CA. This was a foundation Barb filly from the famed Brislawn Ranch.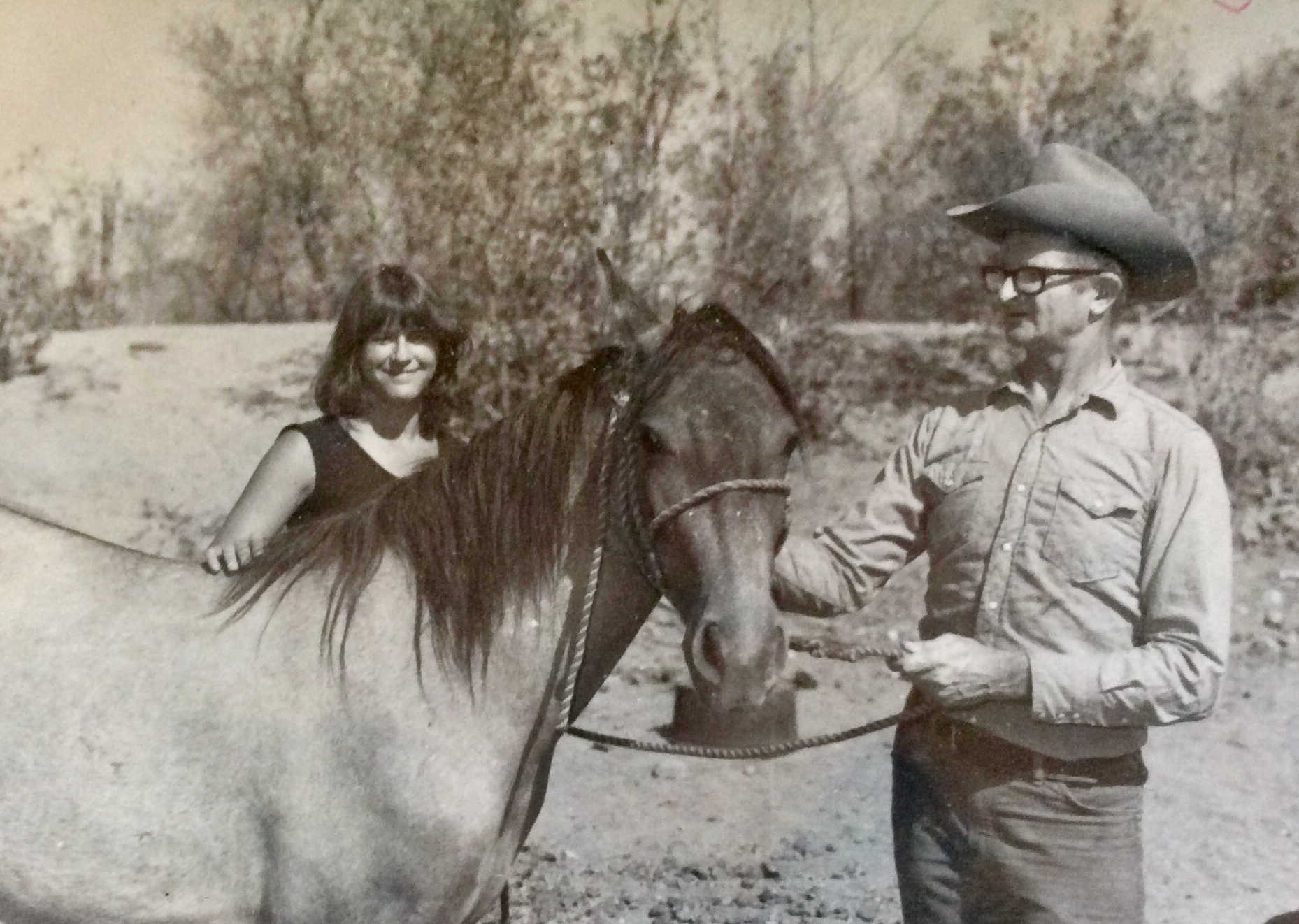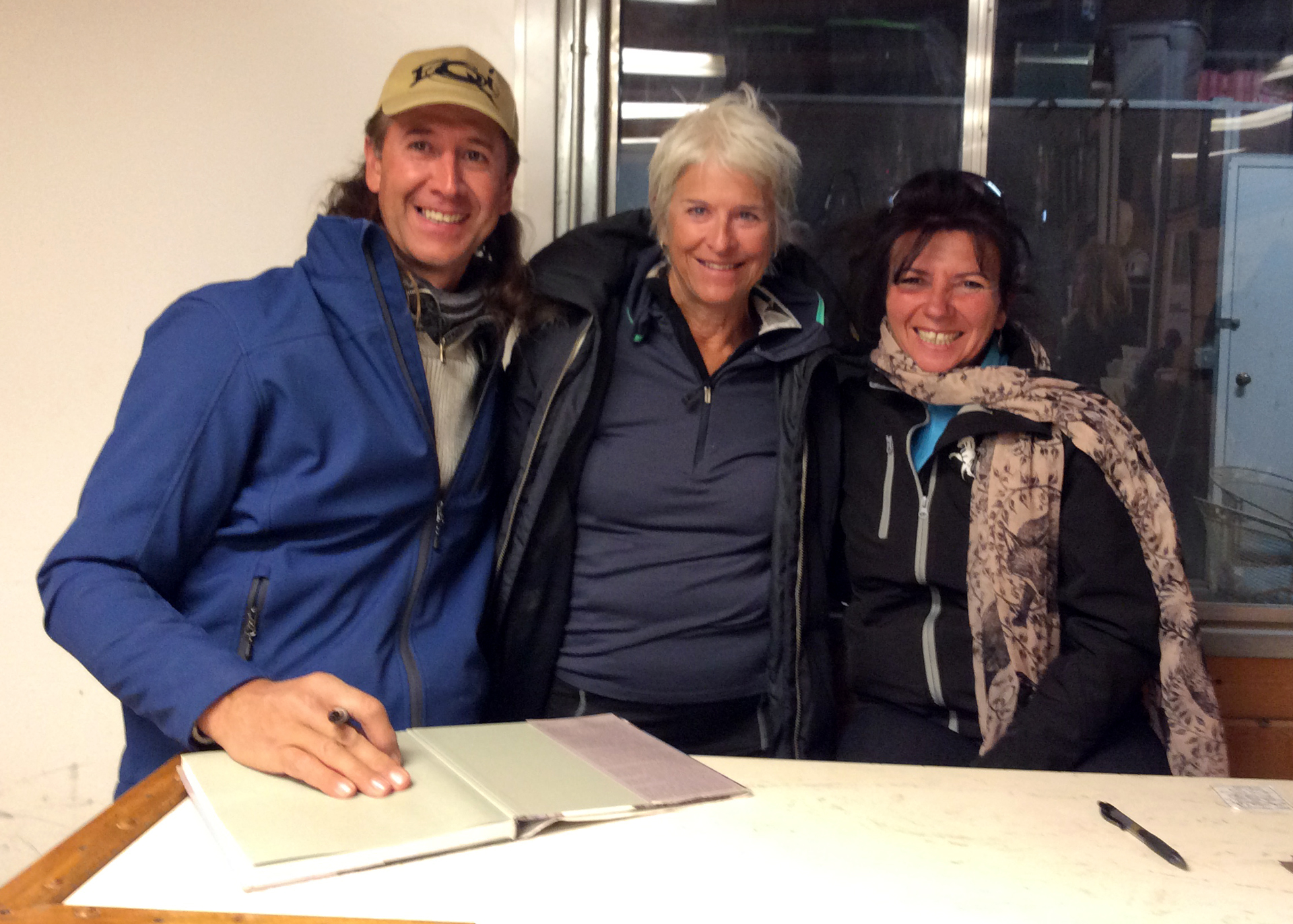 A Trafalgar Square Books "authors photo" shows Margret Henkels with Frederic Pignon and Magali Delgado as they signed their book, "Gallop To Freedom" for Margret at  their Albuquerque clinic.
Below, Margret signs books at the Equine Affaire.
From Head to Tail: Balanced or "Stuck"?
While attending an instructor clinic several years ago, a spontaneous educational event occurred and fascia was first explained to me in a barn. I was fortunate to observe cranio-sacral work on a horse "stuck" in its movement who had some tight spots, especially in his TMJ, which affected his stride. Sure, all the parts are connected; we know that the origin of physiological problems may be somewhere else on the horse's body. But I was fascinated to see how this "melting" of the problem area changed the movement of the horse in a completely different place.
Fast forward a bit, to a nurse practitioner suggesting I try cranio-sacral therapy for myself. And then came good fortune: to have the previously mentioned equine practitioner work on my horses. To see – and feel – the changes that took place amazed me. Even better, he taught me to utilize a specific technique; this was the first recognition that a new adventure, already begun, had been jump started into something way larger than I had anticipated
Fascia, or myofascia, is the elastic, connective tissue in our bodies that surrounds every organ and cell. It holds us together, stabilizing the organs and muscles, and determines our flexibility. Considered "self-directing" and "self-intelligent", fascia determines the extent and ease of our movement, ensuring our vital parts communicate with each other. Fascia has recall memory; a holding pot for emotional trauma and tension, any fascia release can produce both physical and psychological healing for human or equine (or dog, cat or other living creature!).
One practitioner described fascia as a "big sheet of plastic wrap that surrounds everything; when it gets crinkled, it needs to be 'melted' so it can straighten out", which it does from the heat of our hands. An equine chiropractor, also a vet, explained that in vet school they learned about fascia: it was "the stuff you had to cut through to get to everything else!" Now our knowledge about what it actually does is great; surely the rising interest in fascia release work comes partly from the results of experiencing it! Ever see the white stretchy film on a chicken breast? There it is; that's fascia in the flesh
Last fall, when presenting at Equine Affaire, I became fixated on attending a workshop by Margret Henkels, who had studied extensively the role of fascia, with significant experience working on horses. Margret had a book signing (Is Your Horse 100%?) and I went to meet her. A fascinating conversation ensued; she had desired a Centered Riding Instructor to connect with, and I hoped fascia release work could address an equine body issue.
Margret had developed Conformation Balancing, a program integrating the many facets of equine bodywork she had invested years in studying. We eventually created and presented a workshop entitled "Soft Riders, Soft Horses", our coordinated effort to facilitate softening the multiple areas of tightness affecting both horses and their riders; we have presented this twice so far. I have completed her course, becoming certified to work on equine bodies. And what a fantastic journey…
In some circles, fascia is considered to play an important role in just about everything. If it gets "stuck" we may have issues somewhere within the body: movement, pain, anxiety, tension, tightness, and flexibility, to name a few. Because it surrounds and connects all organs and systems, each part is affected by the whole; an entire network (Margret Henkels calls it internet-like) impacts each minute and large piece in our structure by directing, recognizing, reacting, compressing, releasing, remembering, and feeling. That's quite a system, and no doubt works better than my computer!
Articles are available on the effects of tack on a horse's nervous system and fascia. We need not avoid using tack; perhaps our practices will change somewhat as we consider fit and purpose in a new light. Personal observations from horses I've worked on have implicated pressure points from horse clothing, tack, equipment, injury, trauma, riding, or inactivity. Certainly, this list is not exhaustive; many physical and environmental factors can impact fascia.
The good news: our horses can be helped and they do tell us where the issues are. This is non-invasive work; strategic placement of our hands, on specific points of the horse, changes the temperature of both our hands and the horse's body, ultimately changing the fascia. Horses do the work themselves, going deep inside and allowing the changes and releases. Any areas they don't need, or aren't ready for, are places they resist, directing us to those spots most productive and helpful to them at that time.
Of course, none of this precludes the need to consult your vet for health issues of any kind. But it is nice to know there many ways to assist our horses to optimal health and functioning!
Dorothy Crosby is certified both as a Level III Centered Riding® Instructor/Clinician and CHA Instructor for both English and Western riders. Dorothy manages a small farm in Stoddard, NH, where Equi-librium is based.  Most recently, she has added fascia release work on horses through Conformation Balancing. Her joy is in teaching humans and equines of all ages and levels of experience. http://www.crosbyequi-librium.com
LINKS:
"Strolling Under The Skin by UKyOrtho,"

published Aug 28, 2014 by Dr. Jean-Claude Guimberteau.

The Melt Method, Sue Hitzmann (fascia for humans)
Body Wise, Joseph Heller & Wiliam Henkin, Wingbow Press
Touching Light, How to Free Your Fiber Optic Fascia, Ronelle Wood, True Body Publishing