Your horse is stiff, limited & fearful– you want him to feel better.
Learn  fascia tech with Conformation Balancing to help your horse move better & feel happier.
 Workshops & Levels.  Book & DVD. Memberships.
"Is Your Horse 100%?" 
Your riding seat is good—yet, if your horse is stiff & hurts, you're both stuck.
Most horses have stuck, tight areas. These stiff areas are not "fixed" with training or suppling exercises. The muscles can't slide. The horse has good days & not so good days. He's jammed up. This hurts & makes him anxious. Flowing fascia opens stuck areas & hard adhesions. The horse feels happier, not fearful. You have the power to help him.
Workshops, Classes & Levels. Coming: ONLINE COURSES. Membership.
Be ahead of the crowd, learn about FASCIA, the body's internet. Keep your horse (& dog) fit & happy.
"IS YOUR HORSE 100%?" BOOK & DVD by author/fascia instructor Margret Henkels.
Buy direct from Trafalgar Square Books, the leading horse book publisher, with link below.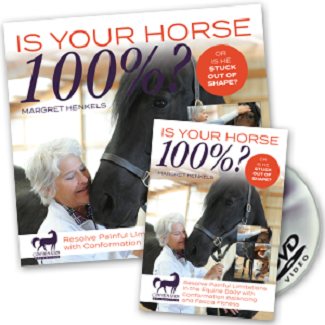 I've just finished reading your book and first I want to thank you for writing it. I loved it !!!!!!!!!

I've had Reiki healing for many years, reading your book added so much to me, it was like finding the missing piece. I feel more complete, strong and self assured in my bodywork. Also my horses who are used to my hands on have had many and long still points and strong releases. It will be an adventure to follow them in the future changes.

Kia, in Sweden
Hands on Healing by Rebecca Didier
Horse Network (horsenetwork.com)
What if I told you that with patient, conscientious placement of your hands on specific areas of the horse's body, you can bring about profound change in his physical and mental well-being? Want to know the secret? The internet-like web of fascia beneath the skin. Continue reading…
Be ahead of the crowd, learn Fascia tech for horse fitness. Ten minute sessions solves old limits & pain, prevents new ones. Start with the book & DVD; take a workshop or Level. Advance a horse that shows, extend ability for an old horse and be your horse's (& dog) best friend!
NOTE: We are not able to post events or info on Facebook due to blocked access. We regret any inconvenience and want you to know that it is not our fault.