Why Conformation Balancing? "Stiff" h
orses feel anxiety & fear.
As stuck fascia melts, the
horse balances and feels better.
Tight, stuck fascia limits horses physically & emotionally. Most horses have stuck areas causing fear and unbalanced movement. These stiff areas are not fixed with training or exercises. The fascia is stuck and the muscles can't slide. As fascia melts with hand heat, stuck areas open. The flowing fascia allows re-organization of stuck areas & hard adhesions. Tightness and anxiety are relieved. Your 2 hands have the power. The horse's response leads the way. Use the book & DVD to help your horse. Workshops and Tutorials go further.
Fascia (connective tissue) changes self-intelligently through the horse's body.
Learn fascia tech to resolve imbalance, stiffness & fear in your horse.
"IS YOUR HORSE 100%?" BOOK & DVD… buy direct from the publisher with link below.
Trafalgar Square Books is the leading publisher of equestrian book & DVDs

in the world.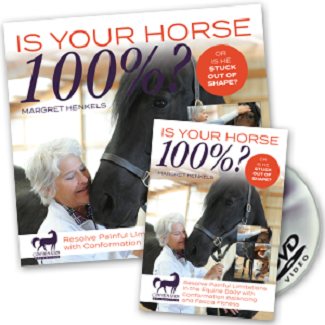 Hands on Healing by Rebecca Didier
Horse Network (horsenetwork.com)
What if I told you that with patient, conscientious placement of your hands on specific areas of the horse's body, you can bring about profound change in his physical and mental well-being? Want to know the secret? The internet-like web of fascia beneath the skin. Continue reading…
"the missing piece" in body work
I've just finished reading your book and first I want to thank you for writing it. I loved it !!!!!!!!!

I'm a student in the Masterson Method and I've had Reiki healing for many years, reading your book added so much to me, it was like finding the missing piece. I feel more complete, strong and self assured in my bodywork. Also my horses who are used to my hands on have had many and long still points and strong releases. It will be an adventure to follow them in the future changes. Kia, in Sweden
"This is a book that goes beyond the anatomical importance of the connective tissue system in horses…it addresses the holistic need of the horse to be understaod and respected. It gives insight into the way fascial tensionaffexts the behavior and performance of horses and how relief for the fascial system provides horses with much more than alleviation of pain. This book should be in the library of all horse owners."
Madalyn Ward, DVM
Need MORE Science to understand fascia transformation? Visit the below site and video.
"Strolling Under The Skin by UKyOrtho,"
published Aug 28, 2014 by Dr. Jean-Claude Guimberteau.
Left, Margret Henkels signs books for Trafalgar Sqare Books at Equine Affaire, MA, in 2017.
Margret presented Demos and  Seminars on Conformation Balancing at the Equine Affaire events.
BELOW: this horse had 5 sessions in 6 months, with rider fascia sessions.  
Before at left; After at  right.